Dental Implant Frequently Asked Questions
The great thing about choosing to have your dental treatment performed at our office is that we offer a simpler solution. If you choose to use Arthur Glosman DDS for cosmetic dentistry in the Beverly Hills / West Hollywood area, you will be working with the same dental team throughout your entire treatment process. You will only have to visit one facility and deal with one dentist, making your implant procedure easier, more convenient, and less expensive.If you're considering dental implants, it's important to ensure that you understand what's involved in the implant process and how it can benefit you. To give you the peace of mind that you need to undergo your treatment and be confident about it, our team will guide you through the process from the start to finish, answering any questions that you have along the way, ensuring that you're completely comfortable with the treatment that you will undergo.To put your mind at rest before coming in for the initial consultation, below are some of the most common questions that we get asked.
How painful is the procedure?
When it comes to undergoing dental implant treatment, many patients are concerned about pain that they will experience. At our dental office, our specialist team always does everything that they can to ensure that you are as comfortable as possible throughout your entire procedure. We offer two options when it comes to pain relief; local anesthesia and IV sedation, both of which work incredibly well at preventing pain and discomfort. Many patients who don't want to feel anything or are overly anxious about their procedure, opt to undergo IV sedation. However, most patients' post-treatment agree that they experienced a lot less discomfort than they thought they would.
If my oral health is not the best can I still get dental implants?
Most people can safely have dental implants put in place, despite their dental health. Many people presume that age can affect your ability to have dental implants placed, but that is not necessarily the case, many older people undergo dental implant treatment with great success. Whether you're missing just one tooth or many teeth, having dental implants installed may be the best option for you. Our team of dental implant specialists is experienced in treating patients with complex dental needs that might have been refused treatment by other surgeons. To find out if you are a good candidate for dental implant treatment, the best thing to do is book a free consultation with a member of our team.
Will people know I have implants? I want my smile to look as if I have natural teeth.
Many patients worry that their dental implants won't look natural when actually that's not the case. As dental implants are joined to your jaw bone like natural teeth, they look just as natural. Once the implants have healed, you will be able to eat, smile, brush, and floss your teeth as if you've had them for your whole life. If you want to ensure that the shape, size, and color of your teeth are just right, you can work with our team to ensure that your prosthetic teeth look just like your natural ones.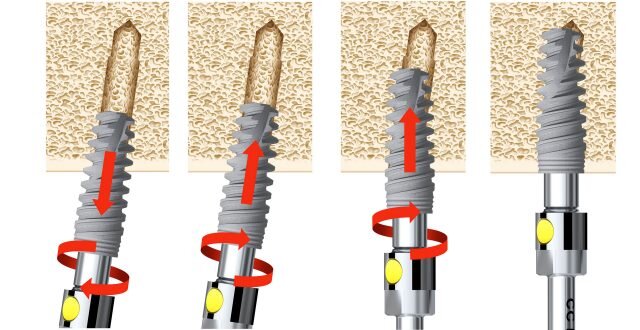 How long is the recovery period?
The recovery period post treatment differs from patient to patient. However, as a rule of thumb, most patients recover within a few weeks to a few months and are then ready for their permanent prosthetics to be fitted. You will have to live off soft food for a few weeks and may have some soreness and discomfort, but nothing that a couple of painkillers shouldn't fix. That being said, many patients say that they experienced some slight swelling but didn't actually need any pain medication post treatment.
Our team at Arthur Glosman DDS is experts and the high levels of care that we offer our patients is top notch. So, you can take comfort in knowing that throughout your treatment, you will be guided through every step before it happens, helping to keep you feeling calm and confident about your treatment. We understand that the more you know about dental implant treatment; the more confident you will feel about undergoing this life-changing procedure.
Is dental implant treatment expensive? Is there a financing option?
There's a common misconception that dental implant treatment is unaffordable. However, that thanks to the precise technology and skilled team of dental professionals, we can offer dental implant treatment for less price than a few years ago. Even so, many of our patients are still unable to make payment in full, which is why we offer a financing option, giving our patients the choice of taking out a payment plan to cover the cost of the treatment. During your initial consultation, our Patient Education Consultant will work with you to work out what the best option would be for you regarding making payment for your treatment.
Can I bring a friend or relative for support?
We actually recommend that each patient brings a friend or relative along with them for support on the day of their treatment. This is that having a loved one close by tends to help make you feel calmer and less anxious.
How long does the actual treatment take?
Most of our patients walk into Arthur Glosman DDS in the morning and go home later that day with a new set of beautiful prosthetic teeth. On the day of your treatment, here's what happens: You will arrive and are sedated or given local anesthesia, depending on what you've opted for, then the procedure will be performed. Afterward, you will spend some time resting in our recovery room while your sedative or local anesthesia wears off. The teeth you will be fitted with are temporary teeth; you will come back a few months later once your implants have healed, to have your permanent prosthetic teeth fitted.
Are you the best at what you do?
At Arthur Glosman DDS, we understand that getting dental implants is a big decision and that it's only natural that patients should want to do their research and look at where they get the most for their money. When it comes to our competitors, Arthur Glosman DDS stands out for two very important reasons: We only ever use the highest quality of materials, like titanium implants, with a specialist dental implant team on hand always. We also believe that our high levels of customer care, and our friendly approach is why so many people have chosen Arthur Glosman DDS for their dental implant treatment.
Do Dental Implants work like real teeth?
Dental implants look, act, and feel like natural teeth, and function like them too. With dental implants in place, you will be able to eat all your favorite foods without worrying about your implants moving or coming out because they are fused to the jaw like your natural teeth would be.
What To Expect from Your Dental Implant Consultation In Beverly Hills
If you think that undergoing dental implant treatment may be the right option for you, then you need to take the next step - a free consultation with a member of our skilled and experienced dental team.
To allow potential patients to get a better understanding of what undergoing a dental implant treatment entails, we offer a free, no-obligation consultation. This gives potential patients the opportunity to find out more about the treatment and to ask any questions that they might have.
Many potential patients are hesitant to attend a consultation as they aren't sure what to expect from it. To give you an idea of what our consultations entail, below is a step by step guide.
Step 1: Meeting The Implant Team The first part of an initial consultation for undergoing dental implant treatment is meeting with the implant team. You will talk with a Patient Education Consultant who will be with you throughout the entire process. If you decide that we at Arthur Glosman DDS are the right choice for you, your Patient Education Consultant will be a big part of your treatment plan. You will also meet with one of our specialist restorative dentists who can explain what undergoing dental implant treatment entails and answer any questions that you have about the procedure or aftercare. This is the perfect time to ask any questions that you have or to raise any worries or concerns that you've been thinking about regarding your treatment.

Step 2: Getting Your Treatment Plan At Arthur Glosman DDS, we understand that every patient has a unique dental situation that requires a personalized approach and solution. We've worked with patients with extreme dental anxiety before, helping to ensure that the approach we take causes as little stress and anxiety as possible. Whatever your personal circumstances are, we can help. To make undergoing treatment easier for nervous patients, we offer sedation as well as local anesthesia. As part of your free consultation at our all-in-one facility, you will have a set of 3D CT scan images made, enabling us to come up with a detailed treatment plan for your dental implant procedure, should you opt to have treatment with us.

Step 3: Get A Set Price For Treatment Once we have created 3D plans of your mouth and looked at your dental records, we can recommend the dental implant treatment that would be best suited to you and your specific needs, allowing us to give you a price for your treatment. The price that we give you is a set price, which means that it won't change and covers the cost of all treatment, including post-treatment checkups. This is the perfect time to look at the option of taking out financing to spread the payments for your treatment over a set time, making it more affordable.
Making Dental Implants
Dental implants are simply a replacement for a tooth's natural root. A dental implant is fitted directly to the jaw, where the cells from the jaw fuse the artificial implant to the bone, ready to hold a crown or prosthetic tooth firmly in place. Once dental implants have been fitted, if they are well looked after and maintained they can be kept in place for life.
For people suffering from dental problems like missing teeth, dental implants can be the perfect long-term solution. Compared to bridges and dentures, dental implants are a more popular choice because they fit the mouth like natural teeth and are more comfortable and more secure.
The reason that dental implants are more secure and more comfortable than dentures or bridges are because of the material that they are made from. The titanium implant that is used at dental spa in Beverly Hills slowly fuses to the bone, which means that the prosthetic teeth are held securely in place and look and feels like natural teeth because they don't move like dentures.
Dental implants are usually made from three simple pieces that fit seamlessly together. These three pieces are the implant, the abutment, and the crown (or prosthetic tooth).The implant itself is a screw-shaped piece of titanium that is attached to your jaw acting as the root of the new prosthetic tooth.
The abutment is a connector that hold the prosthetic tooth in place. This is a permanent fitting, but if something goes wrong with it, it can be easily removed by a dentist. The abutment is a vital piece as it holds the prosthetic tooth or set of teeth in place, without it the teeth would move and rub like dentures do.The crown (or prosthetic tooth) sits on top of the abutment and acts like a natural tooth. It's strong, sturdy, and fixed in place. It can be designed to look like your natural teeth so that it's not obvious that it's fake.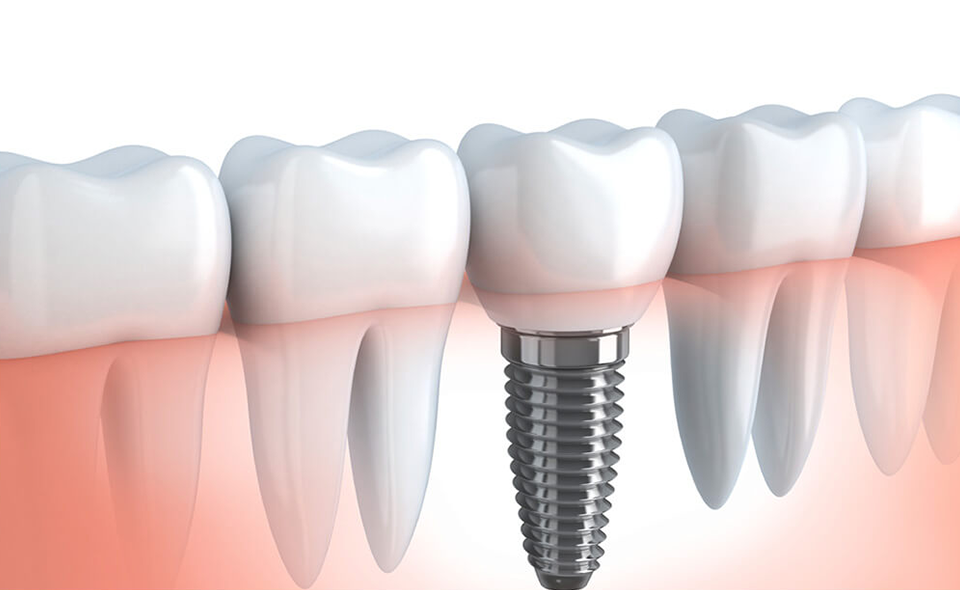 Different types of Dental Implants
There are three main types of implants; these are: all-on-four implants, single implants, and multiple implants. The type of implants that you will need will depend on your specific needs and dental health.
Did you know that a single dental implant can support one or multiple teeth? If you are replacing more than one tooth, you don't necessarily need to have one implant per tooth, implants needed will depend on the strength of your jaw in each area. For this, an all-on-four procedure would probably be best. This is where four implants are fitted, and then an arch of teeth for the top or bottom of your mouth is fitted to them.
Another option is to have a multiple implant fitted that will support two or more teeth. This is ideal is a couple of teeth need replacing, but the surrounding teeth and gums are healthy. The type of procedure that you choose to undergo will depend on your budget and the type of dental treatment that would best suit your specific dental needs.
"All-on-Four"
Many people don't realize it, but just four implants can be used to replace all the teeth at the top or bottom of your mouth. Thanks to advancements in dental technology, replacing the entire top, or bottom row of teeth with implants couldn't be easier, more convenient, or most cost-effective.
You don't need one implant for each missing tooth. Instead, all you need is four well-placed implants. Whether it's the top or the bottom of your mouth that needs implants, all you will need is four screws, and then your beautiful smile can be fully restored. Because each implant will be made of titanium, the living bone will fuse to it, allowing your implants to function as natural teeth would do. Over time, the treatment becomes part of the jawbone and act as a strong and long-lasting anchor for the new teeth.
In the US alone, more than 35 million people are missing all their lower or upper teeth, with many millions more missing one or two teeth. Instead of living with the discomfort or dentures or trying to get by with missing teeth, many people are now opting to undergo this kind of treatment. For people missing a whole set of teeth, the best option tends to be something called "all-on-four" dental implant treatment.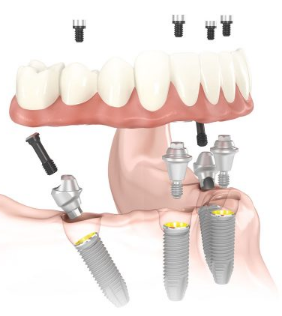 Beautiful new smile in just one day?
Yes, it is possible to get a gorgeous new smile that you can be proud of in just one day. By combining the smart technology of the all-on-four treatment option with the skill and experience of our specialist team, we at Arthur Glosman DDS have developed a method of giving most of our patients a new smile in just one day. This helps to reduce treatment prices, makes undergoing a procedure more convenient, and reduces stress and anxiety that many patients feel in the lead up to undergoing treatment.
At Arthur Glosman DDS, we take an all-inclusive approach to cosmetic dentistry and believe that for people who are missing most their teeth it is the best option.
All-on-four implants can be placed in your mouth, along with the arches of prosthetic teeth, while you are sedated or under local anesthesia, so the treatment should be totally pain-free.
The Best Dental Implant Procedure for You
At Arthur Glosman DDS, we understand that it can be difficult to decide which treatment option is best for you, that's why we offer a free consultation for new patients. This is a no-obligation meeting with one of our team of specialists who will be able to explain more about the procedure, talk about what you can expect, and discuss the different prices with you. You will also have a 3D CT Scan of your mouth done for free, to allow your dentist to get a better idea of whether you need implants, and if you do need implants that would be more beneficial. Then, once it's been determined what type of implants you need, then a treatment plan is put together that outlines the treatment process and cost of your treatment.If you want to learn more about undergoing dental implant treatment using our unique all-inclusive approach, book your free consultation today.