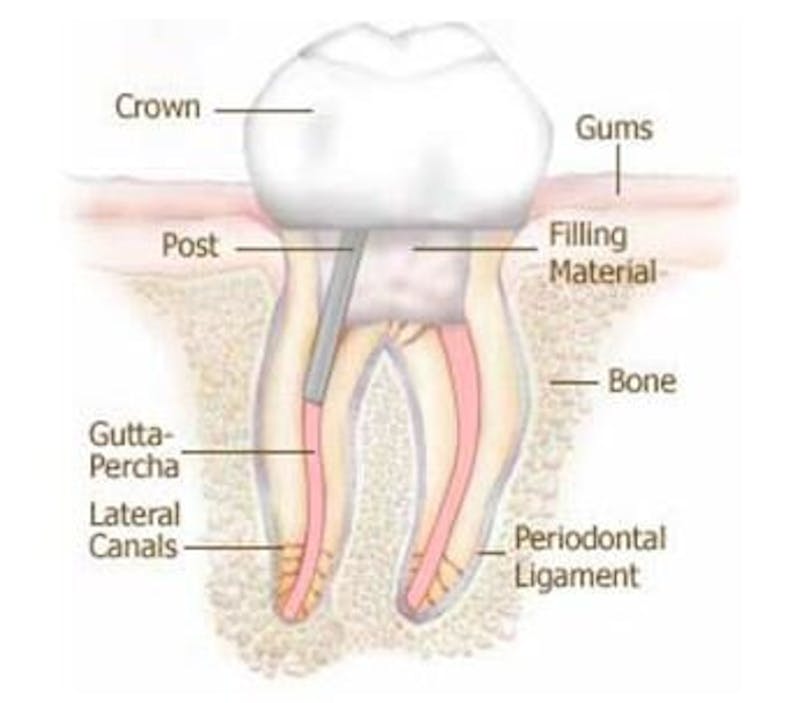 Professional dental implants can change your whole life, but they do come at a significant cost. If you have missing or decaying teeth and you're concerned about how to pay for implants, it's important to know that options are available. It's important to understand what goes into the dental implant cost to begin with.
Average Cost of a Dental Implant
The average cost of a single dental implant is between $3,000 and $6,000. This typically includes the post, abutment, and crown placements, but it doesn't account for any ancillary costs that may be required, such as bone grafting, tooth extraction, or CT scans.
The total dental implant cost will vary depending on a number of factors:
Status of patient's oral health. If you just need a simple post and crown placement, the procedure will cost significantly less than if your mouth requires significant pre-treatment.

The quality of the material will play into the cost. Implants may be made from zirconium, titanium, or another material.

The dentist's reputation and level of experience. Reputable implant specialists with a higher level of skill - and thus more demand - tend to cost more.
The total dental implant cost should be made clear to you during your initial consultation. This is the first step for anyone considering dental implants. Your dentist will lay out the process for implantation, the expectations for short- and long-term recovery, and the total costs. They will also field any questions you may have and devise a custom treatment plan based on your needs.
What Goes Into the Cost of Dental Implants?
There are three parts that make up the total dental implant cost:
The Post

The Abutment

The Crown
The Post
Average cost: $1,500 to $3,000
This is the most invasive part of the implantation process. An oral surgeon cuts open the gum to expose the bone and then drills small holes into the bone for post placement. The post is inserted deep into the bone, ensuring that it's secure enough to hold the artificial tooth in place for a lifetime.
Once the post is secured into the jawbone, the bone grows over it and becomes fused with it—a process known as osseointegration. As a result, the post becomes a firm and unmovable root for your implant. While the bone and gums heal, your dentist can provide a temporary denture to cover the gap and preserve your smile.
Because post-setting requires the skilled hand of an experienced oral surgeon and anesthesiologist, this tends to be the costliest part of the implantation process.
Abutment
Average cost: $1,000 to $2,000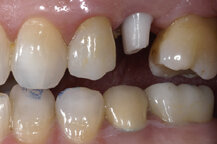 Once the osseointegration process is complete, the oral surgeon will need to place the abutment, the piece that extends up from the post (and to which the crown will eventually attach).
While not as invasive as the initial post placement, the abutment placement does typically require minor outpatient surgery to expose the gum so that the abutment can be placed firmly into the post. Your surgeon will usually use a local anesthetic to minimize any discomfort. Once the attachment is complete, the gum tissue is closed around the abutment.
There is a more cost-effective method whereby the abutment is already attached during post-placement. This eliminates the need for surgical abutment placement, but the downside is that it leaves the abutment visible past the gum line.
Crown
Average cost: $1,000 to $2,000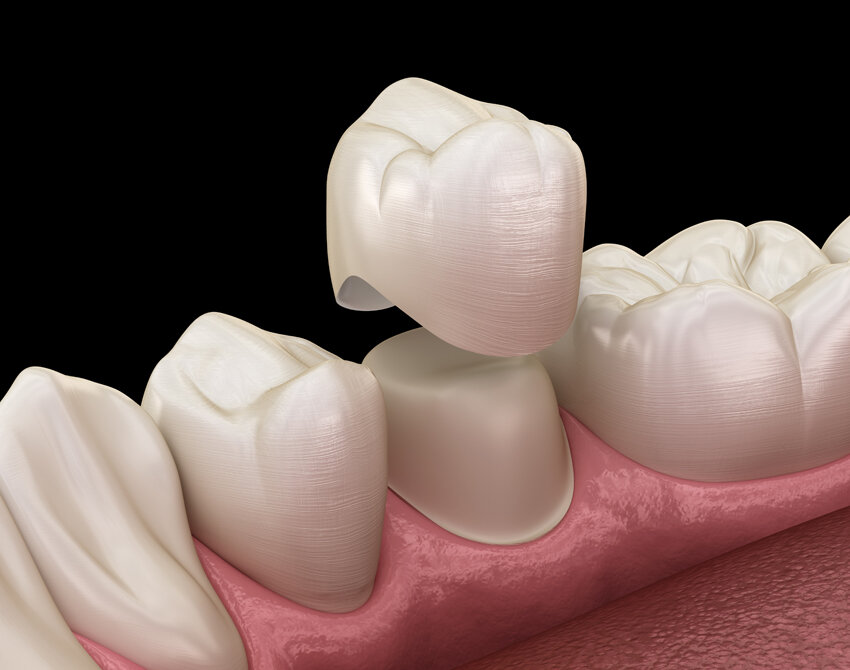 After the abutment heals for about two weeks, the dentist can attach the crown. First, though, they must take a few additional impressions of your mouth and healthy teeth, thus ensuring that the artificial tooth looks natural and blends seamlessly with your smile.
The impressions are used to design and create the tooth. This step requires the assistance of skilled laboratory technicians, which is why the cost can be significant on its own.
The cost can also be influenced by the type of crown: removable or fixed.
A removable crown works similarly to a full or partial denture. The implant contains artificial teeth and gum that attach to the abutment via a metal frame and snaps. This tends to be the more affordable option, especially for patients who require multiple implants.

A fixed crown is permanent. It's firmly cemented or screwed onto an individual abutment and is designed to last a lifetime. For patients who require multiple implants, several crowns may be bridged together.
Your dentist can help you determine which procedure best suits your needs and budget.
Other Costs Associated with Implants
While the post, abutment, and crown placement are usually covered under a single bill, you may incur additional costs for any necessary prep work, such as:
X-Rays

CT Scans

Bone Grafts

Tooth Extractions
X-Rays
Cost: $50-$200
Every patient will require some kind of imaging work prior to receiving dental implants. X-rays allow the dentists to assess the overall health of the teeth, gums, and bone, thus accounting for any potential complications and determining whether additional procedures may be required. The x-rays also allow the dentist to outline the optimal size and placement of each implant.
For example, an X-ray can reveal any underlying infections of the teeth or alveolar bone, they can identify the height and width of the bone in which the post is to be placed, and they can reveal the precise locations of structures that need to be avoided, like the maxillary sinus and alveolar nerve.
CT Scans
Cost: $300 to $1,000
For patients with especially complex needs, a CT scan (or CAT scan) may be in order. This type of imaging combines hundreds of x-rays to create 3D cross-sectional images of the mouth. A CT scan gives your dentist a much better perspective of your overall bone density, structure, nerves, and tissue.
CT scans are also especially useful for detecting blood vessel locations, bone infections, tumors, and other important details. Using this type of 3D imaging, your dentist can map out the entire procedure ahead of time, thereby ensuring the greatest possible outcome in less time.
Bone Grafts
Cost: $500 to $3,000
If your jaw doesn't have enough bone to support dental implants, the surgeon may need to use grafting material to reinforce the natural bone. The natural bone gradually absorbs the grafting material, resulting in a complete or nearly complete restoration suitable for implants.
Bone grafting may be recommended:
Due to the natural aging process

If you've lived for years with missing teeth

If you have untreated periodontal disease

If you have experienced severe physical trauma to the jaw

If you have a genetic or developmental defect that results in tooth or gum abnormalities
About half of all implant recipients require bone grafting. If you're living with any degree of bone loss and would like to pursue implants, it's important to know that you're not alone and that options are available.
Tooth Extraction
Cost: $100-$700
In some cases, a natural tooth must be removed before an artificial tooth can be inserted. There are several possible reasons for this, such as:
Tooth decay. Over time, tartar and plaque deposits can destroy tooth enamel, leaving the tooth brittle and contributing to pain and swelling. If the tooth can't be saved with a crown or other treatment, extraction is usually warranted.

Gum disease. Also known as periodontal disease, this is an inflammatory condition that can result from periodontitis or gingivitis. The condition can weaken the bone or the gum that surrounds the tooth, so extraction is often required.

Tooth impaction. Impaction occurs when one tooth pushes firmly against another. Particularly common in wisdom teeth, this issue can lead to pain, infection, or bleeding gums. This is among the most complex types of extractions, as it sometimes requires the removal and surrounding gum and bone tissue prior to removal.
Tooth extractions may be performed by either a dentist or an oral surgeon. A local anesthetic is sufficient in many cases, but a general anesthetic may be warranted in certain instances, such as for a more invasive tooth impaction. After the extraction is complete, the mouth will usually need to heal for at least 10 weeks before you begin the implantation process.
How to Pay for Dental Implants
Now that you understand what goes into the total dental implant cost, one important question remains: How do you actually pay for the procedure?
Unfortunately, most dental insurance plans won't cover implants because they're not deemed essential. While this might sound absurd to anyone who actually needs implants, the healthcare provider will often deny coverage on the basis that dentures can achieve the same goal at a much lower cost—flawed as that reasoning may be.
Still, there are a few healthcare providers—particularly full-coverage providers—that will cover all or part of an implant procedure, so it never hurts to look. And if that doesn't work, other options are available.
Refer to our article on how to pay for cosmetic and restorative dentistry, as many of the same tips apply:
You can apply for a cosmetic dentistry grant

You can apply for a healthcare credit card

You can establish a flexible spending account (FSA) or health savings account (HSA)
If you have questions about getting dental implants in Beverly Hills, we're here to assist. Contact us and we'll break down the dental implant during your initial consultation and also lay out your payment options—which include flexible financing.
The important thing is to know that you have options. The initial cost may seem high, but dental implants can change your life for the better. Don't put it off any longer.