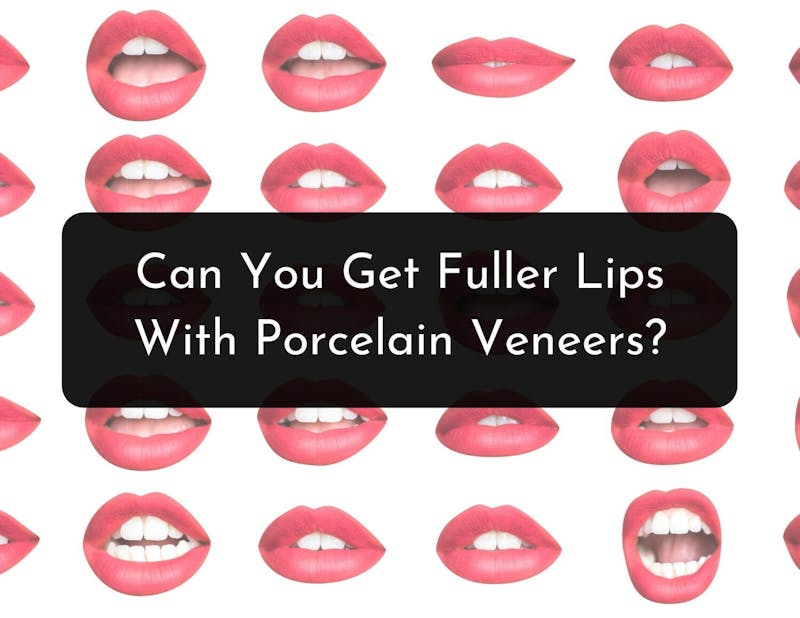 Porcelain veneers are a common treatment option for misaligned teeth, tooth discoloration, and other visible tooth imperfections, but could they also provide a solution for people seeking fuller lips? It's certainly something that's on a lot of people's minds. Imagine being able to achieve more prominent lips without plastic surgery or painful injections.
Porcelain Veneers for Fuller Lips — How Does It Work?
A veneer is a thin wafer-like strip of porcelain. The thin shell is fitted to the surface of your tooth, adding a thickness that presses out the natural lip curves—resulting in a fuller, plumper shape. But it's not enough to just place veneers over the front teeth and hope for the best. In order to encourage a natural, fuller smile with the necessary symmetry, specialized procedures are called for.
Thankfully, there have been some remarkable developments in the world of cosmetic dentistry. For my own practice, I have developed a number of high-level treatments with the goal of producing younger, more vibrant smiles. The Glosman DentaLift™ and Glosman LipLift™ are two trademarked procedures that I employ to help my patients achieve more radiant smiles.
The Glosman LipLift™
The Glosman LipLift™ is particularly effective for lip plumping. For this state-of-the-art procedure, we use X-rays, study models, photos, and an analysis of your bite to map out your facial aesthetics and determine how to best accentuate your upper lip. We then use customized veneers and/or crowns to support your upper lip and teeth to perfection, ensuring a fuller lip and greater harmony for your overall facial structure.
The Glosman DentaLift™
The Glosman LipLift™ can be used on its own, or it can be combined with the Glosman DentaLift™ procedure, which addresses a collapsed or worn-down bite. If you have problems stemming from TMJ or teeth grinding, the Glosman DentaLift™ may be an excellent option. Dental-lifts usually restore worn-down teeth to their natural position by focusing on enhancing the bottom third of the face and lifting collapsed bites. The treatment is also perfect for those who have suffered injuries to the mouth or have severe oral issues such as missing teeth.
These specialized treatments can even be combined with additional procedures as part of a complete smile makeover.
Are Veneers a Solution for Fuller Lips?
Dental veneers, when properly designed and placed, can absolutely add fullness to sunken or thin lips—and with the added benefit of smoothing out wrinkles and reducing the signs of aging.
The treatment won't stimulate collagen growth, and the lip fullness might not be as dramatic as you would get with a collagen injection, but that's actually a good thing. The final result looks smooth and natural with no foreign agents required. And whereas a collagen injection will only last up to 5 years on average (even less for an HA filler), porcelain veneers can last up to 20 years with proper care.
Only Use Cosmetic Dental Experts for Veneers
The American Association of Cosmetic Dentistry (AACD) reports that oral veneer treatments are among the most high-demand cosmetic procedures available. Speaking as a cosmetic dentist, I can assure you that a portion of those treatments have the goal of enhancing other aspects of the mouth, and not just the teeth.
There are a lot of cosmetic dentists out there, and not all of them are qualified to place porcelain veneers for fuller lips. It is crucial that you consider the experience of any dentist before undergoing treatment. When done right, porcelain veneers will help enhance facial features by improving your smile, restoring your natural lip shape, and smoothing out any wrinkles caused by the sun, aging, or smoking.
As long as you do your homework and work with a cosmetic dentist who understands the complexities of lip reshaping, it is possible to achieve fuller lips as part of a brighter, more beautiful smile.