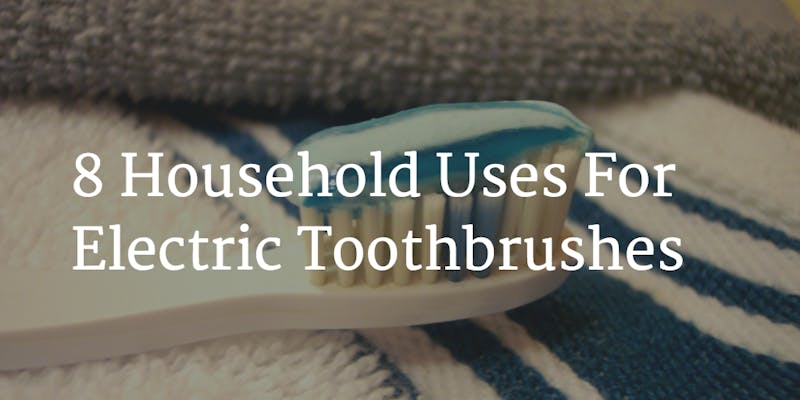 8 Household Uses For Electric Toothbrushes
Using an electric toothbrush is a great way to keep your teeth and gums healthy between dental visits, but what do you do with your old electric toothbrush when you decide to upgrade to a newer model? Don't toss it out! Use it around the house to make cleaning a bit easier. Don't have an old one? There are tons of inexpensive brushes you can purchase for under $10. It's well worth the investment and should pay for itself in timesaving. Here are a few tips for using an electric toothbrush around the house:
Grout Scrubber – Use your old electric toothbrush to remove caulking stains or stains on grout. For this, you may want to purchase an inexpensive unit at your local drugstore if you don't want to give up your good electric toothbrush.
Hard Water Stains – Use a battery-powered toothbrush on hard water and calcium buildup on faucets and showerheads. The bristles will not scratch or damage metal finishes like pumice stone or chemicals.
Reusable Coffee Filters – If you use a single cup coffee maker with loose grounds you know how difficult it is to clean those small reusable filters, especially when the coffee grounds have dried and become caked-on. Get your cup of coffee brewing quicker by using an electric toothbrush to get into those tight places easily.
Slider Door Tracks ­ – Getting all the dust out of the corners of your sliding casements can be next to impossible once dirt builds up. Take a dry electric toothbrush to pulsate and watch as it blasts the dirt out in no time. For best results follow up with a damp sponge or terry cloth.
Kitchen Tools / Utensils – For the kitchen I recommend buying an inexpensive electric toothbrush and labeling it "Kitchen use only" so it is not mistaken for a brush that is for utility purposes. Using an electric toothbrush to clean your micro plane, garlic press, lemon zester and small strainers can make quick work out of a typically annoying task.
Stain Remover ­– One of my favorite uses for an electric toothbrush is to get tough stains out of clothing. Use a cheap electronic toothbrush, such as this one from drugstore.com for $6.99, with a good stain remover and your stain will be gone without a trace.
Cleaning Fingernails – If you have someone in the house who works with their hands, this is the tip for you. Use an electric toothbrush to clean grease and dirt from under your nails. The toothbrush bristles are more comfortable and just as effective as using that brush in your laundry room.
Detailing Car Interiors­– If you are a perfectionist as I am, those hard-to-reach, dusty cracks and crevices in your car drive you nuts! Take a dry electric brush and blast the dust out of those cracks before you vacuum. The inside of your car will look brand-new with very little additional effort.
Cleaning Jewelry ­– This is a great tip for people who want to clean their jewelry themselves. For this, you will want to spend a few dollars more for a Sonicare model such as this one for $15. The Sonic technology works great to clean around diamond settings gently and effectively, just like those professional ultrasonic jewelry cleaners you see on Amazon.
As you can see, the uses for electric toothbrushes as a tool around the home are endless. What are some of your favorite uses for old toothbrushes? Drop us a comment on Facebook; we would love to hear from you.